20 Sep 2018
Bridgepoint Active Healthcare: improving quality and satisfaction through design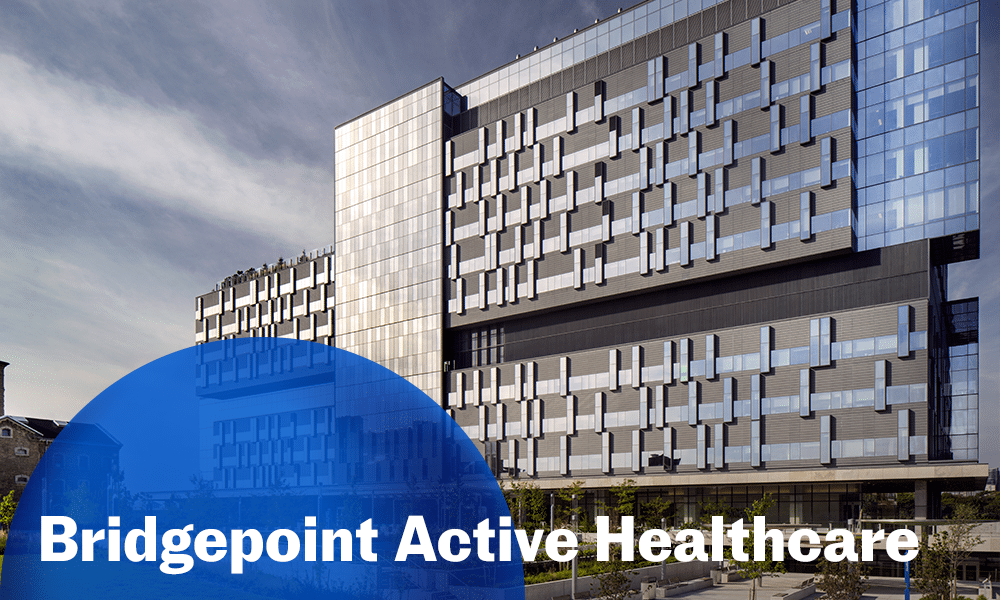 This is the third installment of MaRS Market Intelligence's month-long series on innovative hospitals in Ontario. To read the first, click here.
A member of the Sinai Health System and affiliate of the University of Toronto, Bridgepoint Active Healthcare (Bridgepoint) embodies innovative architectural design in healthcare, serving to better meet the lifelong needs of people living with multiple health conditions.
Previously known as Riverdale Hospital, Bridgepoint opened in 2013 in Toronto's east end, rising high above the Don Valley. The state-of-the-art, 10-storey, 680,000-square foot building represented the future of healthcare.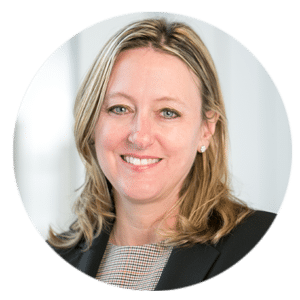 According to Jane Merkley, executive vice president, chief nurse executive and chief operating officer, Sinai Health System, "the central design features of the new Bridgepoint hospital create an environment of health, wellness, healing. It's a place to activate patients and get them mobilized." The holistic model that inspired the hospital design emphasized movement away from the illness paradigm of healthcare. That is, shifting away from a place where patients are dependent, passive recipients. Bridgepoint was designed as an environment of patient-centric care where people are empowered to self-manage. Jane notes that the hospital has all the design and programming to ensure that patients and families are engaged. "If you go over to Bridgepoint, you feel like there's something different in the air," she says. "It's an optimistic, hopeful environment".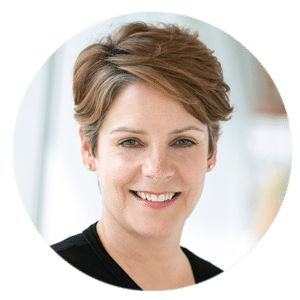 Kate Wilkinson, vice president, quality and clinical programs, explained to us that a number of key transformations took place to enhance the patients' psycho-social well-being, and reduce adverse events such as falls and infections.
The former Bridgepoint hospital contained mostly four-bedded rooms – very few semi-private and private – and had a few centralized washrooms for patients to share. In the new building, even with the same number of beds, the physical footage was increased by nearly 250 per cent; the number of units increased from 9 to 14, while reducing the numbers of beds per unit from 50 to 32. With a combination of semi-private and private rooms, each room has its own washroom and greater physical footage so that patients are not at close proximity.
Concerning accessibility, each unit is also outfitted with bariatric rooms with special design elements like double doors, extra wide bathroom doors, and special equipment tested for appropriate weight restrictions. The patient rooms also have horizontal and vertical floor to ceiling windows, enhancing patients views. It all creates a feeling of inspiration and connection to the community – whether in bed, sitting on a wheelchair, or standing, patients will have uninterrupted views. Even in a semi-private room, every bed space has access to an unimpeded window, even if a roommate's curtain is drawn. Every room also has the capacity for temperature control and management, air quality and lighting.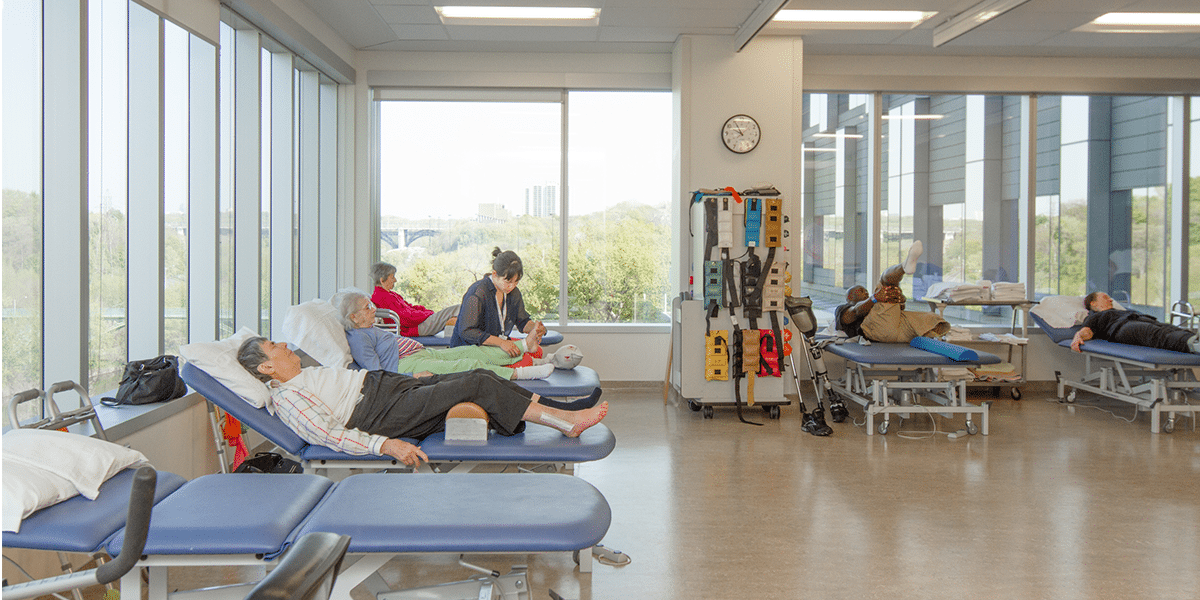 Bridgepoint's design focuses on transforming its entire footprint (the size of a city block) into a "campus of wellness." Quite a bit of care and attention was given to the design of the hospital's outdoor space: the patios and the connection with the adjacent areas such as parks and the neighbourhood. These areas were built with the goal of motivating patients to get well, and for them to eventually have the confidence to go home. Every single room in the hospital, whether it be a patient room or activity room, has one of four fantastic uninterrupted views: north to Riverdale park, south to Lake Ontario, east into the Riverdale community or west to the Toronto skyline.
All of these design features have been influential in boosting patient satisfaction – social and physical therapy that gets patients in a different state of mind and advances recovery.
As Jane and Kate further explain, one of the primary and recent focuses of Bridgepoint is changing the hospital's policies and programming to create a more comfortable stay for caregivers. Often, when caregivers stay at hospitals for long periods, they suffer from burnout. In response, the hospital is launching a patient family care strategy that is intended to alleviate this stress. One example is the creation of a caregiver centre which will be designed with caregiver feedback. The first phase involves providing 24-hour access to loved ones under the new family presence policy. The second phase will create physical spaces that can be used by caregivers while they are in the hospital.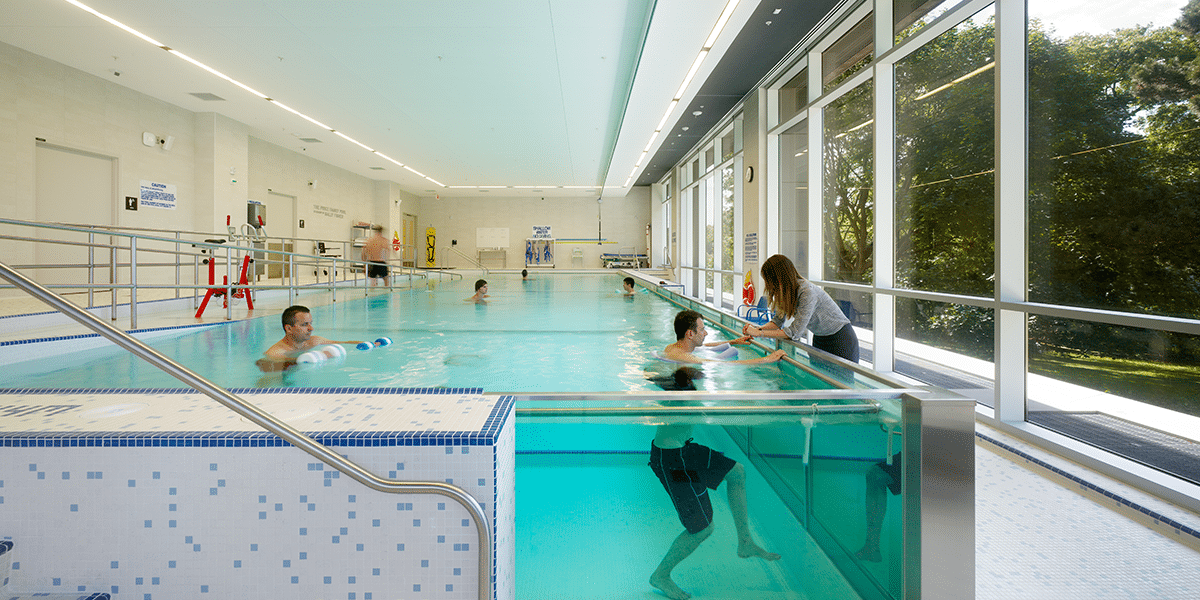 Findings from a preliminary report on the Bridgepoint pre- and post-occupancy evaluation by Dr. Celeste Alvaro show that patients have "experienced an increase in satisfaction, displayed greater self-efficacy in mobility and increased perceptions of improvements in their mental health relative to the old hospital".1
Moving forward, it is recommended that future hospitals also follow the Bridgepoint model and incorporate design features such as quality outdoor spaces, access to natural light, and uninterrupted views of the outdoors. This will increase patient satisfaction and contribute to faster recovery.

By: Hedieh Javaheri and Nirusan Rajakulendran

_________________________
Special thanks to Zayna Khayat, future strategist, Saint Elizabeth Health Care, for her guidance and expertise, and to the following collaborators and reviewers for their partnership and insight.
Collaborators
Altaf Stationwala, president and CEO, Mackenzie Health
Cheryl Woodman, chief strategy and quality officer, Women's College Hospital
Danielle Martin, vice president medical affairs and health system solutions; co-founder of WIHV, Women's College Hospital
Jane Merkley, executive vice president, chief nurse executive and chief operating officer, Sinai Health System
Kate Wilkinson, vice president, quality and clinical programs, Sinai Health System
Reviewers
Louise Murphy, manager, MaRS Market Intelligence
Maggie Clark, senior associate, MaRS Partnerships
Mei Burgin, director, MaRS Market Intelligence
Shahab Shahnazari, senior manager, Health Data Initiatives
Sheryl Thingvold, senior advisor, MaRS Health Venture Services
________________________
1.Bridgepoint Active Healthcare. 2014. "Design and Evaluation: The Path to Better Outcomes." Available at: http://www.bridgepointhealth.ca/en/what-we-do/resources/research/path_to_better_outcomes_preliminary_report.pdf.