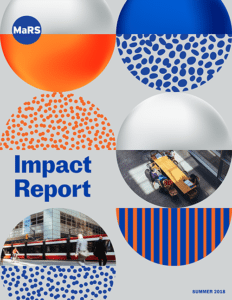 The information revolution that bridged the 20th and 21st centuries has, in just a few short years, changed the ways that people work and live. In 2005, recognizing the need for Canada to be at the forefront of this change, visionaries opened the not-for-profit MaRS Discovery District at the heart of Canada's largest — and one of the world's most culturally diverse — cities. The goal: to develop a world-class innovation district dedicated to bolstering the country's social and economic prosperity through its science, technology and social innovations, and to help make the world a better place for the future.
The growing trends and movements of talent and capital in the tech sector in recent years have been well documented. From the accelerated pace of innovation and capital flow to changing investor preferences to an increase in innovators prioritizing social impact, the landscape of technology and innovation is changing.
MaRS is leading the way in building an urban innovation cluster: a place to connect the entire entrepreneurial supply chain and address the blockages that prevent ventures from reaching their potential. The MaRS Centre supports a carefully curated ecosystem of approximately 150 tenants, including ventures, venture capital firms, partner research organizations and Canadian headquarters of prominent global tech companies.
Beyond its space and community, MaRS has pioneered programs to support both innovators and innovation adopters. From one-to-many education programs to one-to-one advisory services, MaRS works directly with entrepreneurs, providing a suite of offerings that connect MaRS- supported ventures with talent, markets and capital. These MaRS venture programs support over 1200 high growth Ontario companies. Programs and initiatives at MaRS also work with market forces— including governments, corporations and consumers—to pilot and change regulations that increase the capacity of and access to ventures' solutions to big societal problems.
This report aims to highlight the social and economic successes of MaRS- supported ventures and MaRS programs, and to enable action for MaRS and its stakeholders based on the best available data. Together, these elements set MaRS and its partners on a path to improving society for future generations and making a difference beyond Canada's borders.
MaRS Impact Report
Download (pdf)