13 Sep 2018
Women's College Hospital: increasing efficiency while meeting demand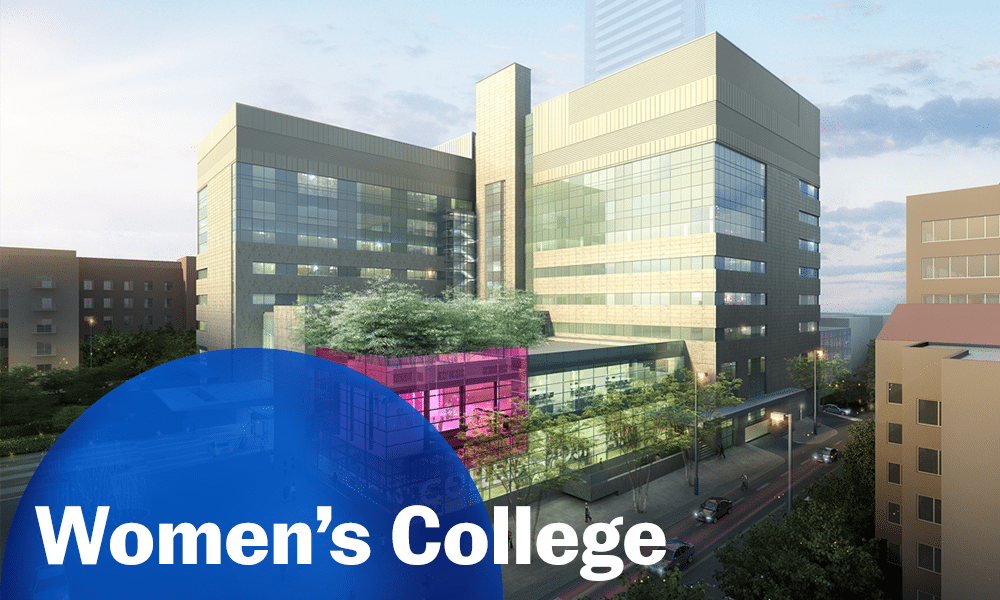 This is the second installment of MaRS Market Intelligence's month-long series on innovative hospitals in Ontario. To read the first, click here.
In 2005, Women's College Hospital (WCH), located in downtown Toronto, became the first independent, academic ambulatory care hospital in Canada. Since then, the institution has been a leader in solving some of the most prevalent challenges in our healthcare system. The Government of Ontario decided to transition WCH to a model of solely outpatient as part of a bigger agenda to restructure healthcare services across the province.
WCH is, ironically, a hospital designed to keep people out of the hospital. It has evolved surgical and anesthesia processes for knee replacements, breast reconstruction and thyroid surgery, all in an effort to shorten the in-hospital recovery period to less than one day. The hospital is using technology to help patients communicate with healthcare providers so that they can leave on the same day of surgery to recover safely at home. Through the outpatient model, WCH aims to close health gaps, offload the pressure on hospital beds, save money for the system, and increase patient satisfaction.
According to WCH, in order to achieve new and better outpatient models across Ontario, providers need to test those models first and understand how they work. This was the idea behind the WCH for Health System Solutions and Virtual Care (WIHV). Created five years ago, it is a living laboratory that develops and evaluates novel healthcare services. The hospital's goal was to ensure that any new model of care would be tested against healthcare's "triple aim": [1] better the experience for patients and providers, [2] improve health, and [3] save the healthcare system money (or at least hold costs at a sustainable level).
Over the last five years, WCH has worked with partners inside and outside the province, figuring out how to spread and scale successful projects. The hospital's new strategic plan reinforces its commitment to revolutionize health systems – to develop, implement and evaluate solutions, including new ways of delivering services over the next five years.
One of the projects that WCH has been working with Ontario Telemedicine Network on involves evaluating an app that reminds patients with chronic kidney disease to re-order supplies and monitor aspects of their health while managing home dialysis treatment. This type of self-management helps people maintain optimal health and prevent avoidable issues that might result in a visit to the hospital. WIHV has also evaluated software that lets patients with diabetes track their blood sugar levels and receive daily diet and lifestyle tips. Additionally, WIHV is looking at the benefits of things like at-home HPV testing kits that allow women to mail in samples and access results online. And the hospital is working with leaders in primary care to create faster access to advice (roughly half of Ontarians aren't able to see their doctor on the same day that they call).
Through projects like these, WCH intends to show how some of the barriers to accessing care can be removed, all while getting the best value for its resources. If the hospital can help patients stay on top of their care and create a fast track to advice from healthcare teams – especially at critical moments where the only alternative would be the emergency department – it will go a long way towards improving sustainability across the system.
Over the next five years, the WCH wants to work for all Ontarians to drive solutions that improve efficiencies, convenience, access and effectiveness. An exciting aspect of this strategic vision is Women's Virtual, a virtual care centre that will advance technology-enabled care delivery and consultations and identify opportunities to make care more accessible, affordable and comprehensive. The goal is simple: patients will no longer have to physically seek out care or reorient their lives to gain access to specialists.

By: Hedieh Javaheri and Nirusan Rajakulendran

_________________________
Special thanks to Zayna Khayat, future strategist, Saint Elizabeth Health Care, for her guidance and expertise, and to the following collaborators and reviewers for their partnership and insight.
Collaborators
Altaf Stationwala, president and CEO, Mackenzie Health
Cheryl Woodman, chief strategy and quality officer, Women's College Hospital
Danielle Martin, vice president medical affairs and health system solutions; co-founder of WIHV, Women's College Hospital
Jane Merkley, executive vice president, chief nurse executive and chief operating officer, Sinai Health System
Kate Wilkinson, vice president, quality and clinical programs, Sinai Health System
Reviewers
Louise Murphy, manager, MaRS Market Intelligence
Maggie Clark, senior associate, MaRS Partnerships
Mei Burgin, director, MaRS Market Intelligence
Shahab Shahnazari, senior manager, Health Data Initiatives
Sheryl Thingvold, senior advisor, MaRS Health Venture Services