The market impact of energy data

Those smart meters on the side of your home do more than just calculate your time-of-use billing: they hold a whole lot of data about your electricity consumption and the way Ontarians use, conserve and think about energy.
The province of Ontario is among the world's leaders in moving toward a smarter grid, including smart meter penetration and installation. Currently, almost every residential household and many places of business in the province are equipped with smart meters, providing millions of pieces of data every day.
Because of the advanced state of smart meter implementation in the province, Ontario has a unique opportunity to create wider economic and social value from those pieces of data and become a leader in data management infrastructure. This data will be beneficial to electricity conservation efforts in the province, but also extends beyond conservation to the areas of job creation, economic growth, trade, education and innovation.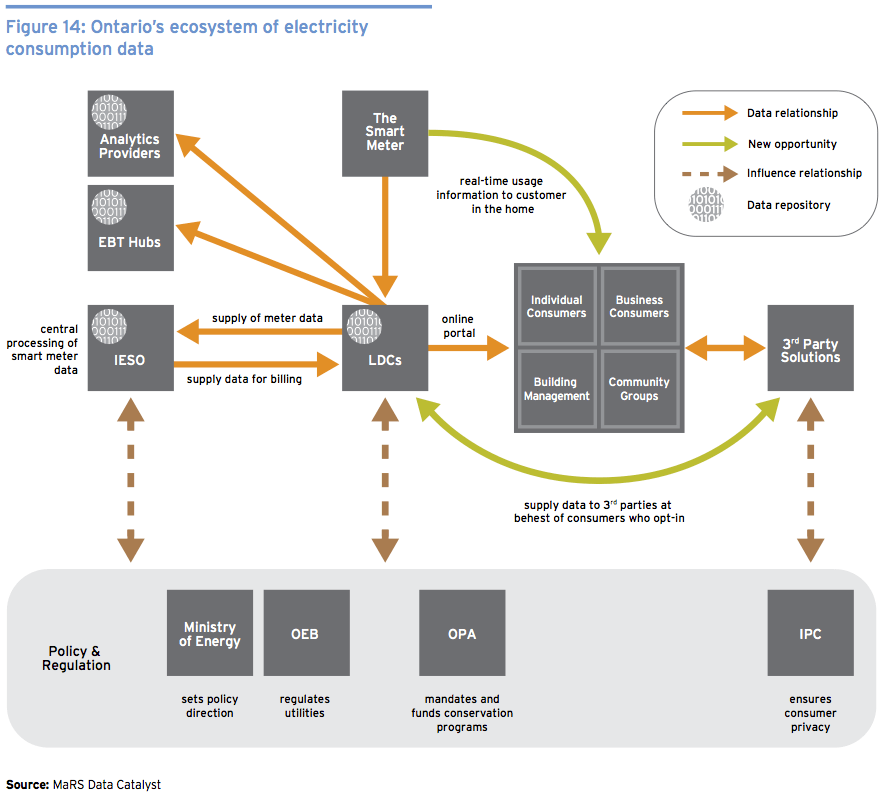 Over the past few months, Data Catalyst has been working with MaRS Market Intelligence and the Clean Energy Institute to examine the market impact of accessible smart meter data. Today, we're releasing a white paper that examines the economic impact, market scope and growth potential of the innovative economy that could be opened up by establishing appropriate standards and mechanisms to allow data, including electricity consumption data, to be used in new solutions while respecting the privacy and ownership of that data.
You can download the report here.
We'd love to get your feedback on the report—let us know if we've missed anything, where you'd like more research, and how you see the data community working together to use smart meter data more effectively. Send us an email with your feedback.