EXCITE Board member, Dr. Catherine Zahn, featured on cover of Women of Influence Magazine
Dr. Catherine Zahn, President and CEO of the Centre for Addiction and Mental Health, was chosen to grace the cover of Women of Influence magazine. After 10 days of online voting, Dr. Zahn was chosen out of an impressive pool of senior executives who have made, and are making a significant difference in their sectors for the cover of the Top 25 Women of Influence 2014 issue.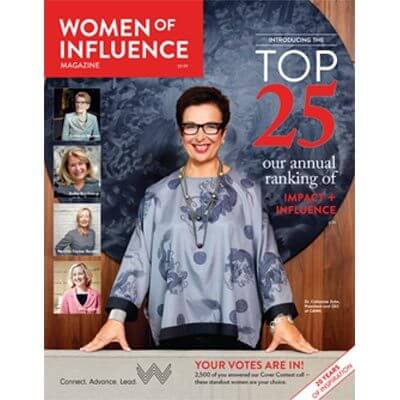 Dr. Zahn was nominated by Dr. Katherine Siminovitch who met Dr. Zahn while working at St. Michael's hospital in the 70s. Here is an excerpt of what Dr. Siminovitch's had to say about Dr. Zahn:
"She has an appetite for change and she makes change happen. Her ability to do that stems from her tremendous empathy and social insight. She tries to understand what the vision is of the individuals she deals with and, guided by her exceptional people skills, is able to exact that vision through intuition. It is her patience in reading others and responding that sets her apart."
EXCITE is blessed to have Dr. Zahn as part of our Management Board where she provides feedback on applying health technologies. To read more about Dr. Zahn's nomination visit the Women of Influence website at www.womenofinfluence.ca.
Lily Lo
Lily manages the Procurement by Co-Design challenges to ensure effective collaboration between healthcare providers and vendors. See more…