Apply now! MaRS EXCITE opens sixth call for innovative health technologies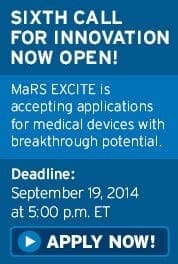 The MaRS Excellence in Clinical Innovation and Technology Evaluation program (MaRS EXCITE), invites all medical device companies and innovators to apply to the program so that disruptive effective health technologies can get to market faster for improved health outcomes – in Ontario and globally.
EXCITE is a partnership between government, the healthcare system, academia, clinicians and industry, launched in late 2011
At the end of the program, companies receive a high quality EXCITE core evidentiary bundle, they can use for both Health Canada licensing and an application to the Ontario Health Technology Advisory Committee (OHTAC) for recommendation to the Ontario Ministry of Health and Long Term Care and other reimbursement and purchasing reviewers.
Why apply?
EXCITE's single, harmonized process mitigates risk and costs to investors and industry through pre market endorsements and increased efficiency
Gain earlier feedback on technology from regulators, payers, clinical experts and market experts to reduce delays and unnecessary development costs
Provides way to engage health system and negotiate conditions for adoption before launch
Multicentre studies involving markets of choice creates an efficient single platform to evaluate technologies across multiple jurisdictions in tandem with regulators and payers via EXCITE model
Current participants
11 technologies have been prioritized by the Ontario health system for the EXCITE program.
For information on current participants: Medtronic of Canada, Apnea Dx, and Rna Diagnostics, click here.
How to apply
For more information on eligibility criteria and how to apply, visit the "How to Apply to EXCITE" section.
Applications are due on September 19, 2014.
EXCITE Infosession
EXCITE will be holding an infosession with the opportunity for Q & A on August 21, 2014 from 2:00 p.m to 3:00 p.m at the MaRS Centre.
Sign up for the infosession today >>