Innovating the Food & Beverage Industries in Ontario
A Food & Beverage Innovation Centre could build a market breaking position for the Ontario food industry through faster cycles of innovation, development and commercialization, collaborative relationships between entrepreneurs and companies, and layers of differentiation to meet consumer trends.
Ontario's food and beverage sector is the third largest in North America measured by employment and value added output. In 2011, the industry generated $39 billion in annual revenues and 125,000 jobs. Increasing operating costs and competition and low levels of investment in traditional research and development are among ongoing challenges. There are significant opportunities with a large and growing global market such as shifting consumer preferences towards healthy ingredients, specialty products and local foods and expanding exports especially to the growing middle class in emerging economies.
The Alliance of Ontario Food Processors recently released its vision and strategy for the food processing industry to become the largest manufacturing employer in the province, grow its revenues and exports, develop new high quality products and technologies, drive local economic development and supply healthy foods to Canadians. It believes the industry can grow to $70 billion in revenues and 185,000 jobs by 2020 with the right support. This includes Ontario establishing "a centre dedicated to food and beverage processing innovation, business development and incubation to drive a new level of processor competitiveness both domestically and globally." Download the AOFP Food & Beverage Processing Industry Strategy below: 

AOFP Food & Beverage Processing Industry Strategy
Download ("pdf")
The MaRS Solutions Lab designed and facilitated a workshop to co-create a business model for a Food and Beverage Innovation Centre in Ontario on February 13, 2014 hosted by the City of Toronto Economic Development Division, the University of Guelph and George Brown College. Fifteen small, medium and large food processing companies, 16 regional innovation/economic development and 8 academic leaders participated.
Alba Lisa Quinn, Doug Alexander, Alon Ozery and Erin Mayes were part of an industry panel that shared their challenges in developing and growing innovative products, processes, and partnerships. Industry participants stressed the importance of building a market breaking position through faster cycles of innovation, development and commercialization building on collaborative relationships between entrepreneurs and larger companies and layers of differentiation which meet consumer trends.
Michael Wolfson, Rickey Yada, and Robert Luke shared their vision to better connect existing resources into a collaborative network that matches innovation and business development expertise to the needs of companies and consumers. Ilse Treurnicht commented that collaboration is an extreme sport and asked participants to think about how to leverage Canada's diversity by growing ethnic small emerging entrepreneurs into high growth, high impact businesses that could be piloted in Ontario before going global.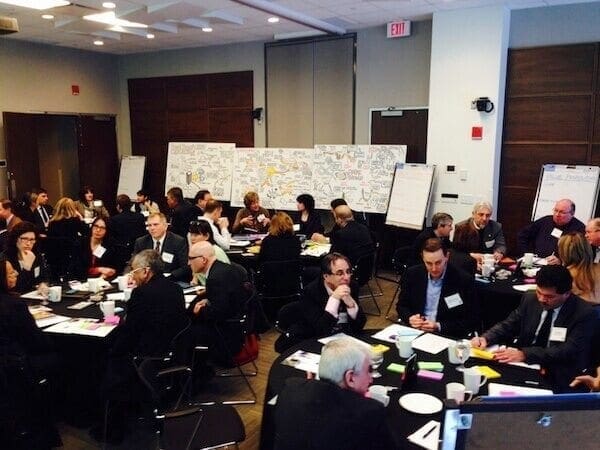 The overall value proposition, activities and revenue generation opportunities created by workshop participants for an Ontario Food and Beverage Innovation Centre are as follows:
Scope: Ontario start-ups, and small and medium sized enterprises that want to innovate and grow from "ideas to scale" and "table to farm" (ie. looking at consumer-demand) with a focus on food processors.
Objective: To provide a single point of access to a virtual network/portal of expertise as well as physical facilities from research to commercialization with a focus on business/product development (information, financing, equipment) to build capacity/culture for open innovation, optimization, and commercialization of ingredients, products, processes, and services.
Advantage: Network/reach of up-to-date information, connections, diversity and momentum through fast-moving food chain players creating a higher probability of success for companies, the industry and regions.
Activities: To be a network convener in a common neutral space for face-to-face and online for meeting (teach/learn) with experts, mentors and peers: mentorship/advisory services, market intelligence, business planning, marketing/retailing, social media and communications, company roundtables with facilitation; physical production: incubator for development, accelerator for small-scale production, facilities/equipment via connecting/referring to resources; open innovation/modes of collaboration on value chain components: product testing, developing, scaling;  sourcing funds, assistance and matchmaking to meet company's business development needs; education for entrepreneurs and innovators; leverage buying power and back office support.
Revenue: Fee-for-services on resources, events (scaled); industry contributors, membership fees, knowledge management fees; space rental, contract co-packer broker; royalties on product or shares in companies; private foundation grants (philanthropy); crowdsourced funding; venture capital; deferred loan; sponsorship/naming by non food investor; federal, provincial municipal government grants/ matching contributions (new and/or redeployment): IRAP, FedDev, NSERC, OCE, OMAF etc.
There is a strong, shared view that the concept of a Food and Beverage Innovation Centre needs to move from talk to action. Next steps and leads were identified:
Create a Steering Team to guide business concept/plan development – Michael Wolfson from City of Toronto
Develop the business case and plan for the Ontario food and beverage innovation centre – Steve Peters/Isabel Dopta from Alliance of Ontario Food Processors
Develop an inventory of existing resources in Ontario – MaRS Solutions Lab
In the coming year, the hosts from City of Toronto Economic Development Division, University of Guelph, George Brown College and MaRS will collaborate on opportunities to connect our capabilities and work with entrepreneurs and industry to support and accelerate food innovation.
Filed Under