Program Details
Program Stages
Initiation
Healthcare providers publicize (on the MaRS website and other channels as appropriate) "Challenge Briefs" that describe the challenge, the desired outcomes and the evaluation criteria to be used for vendor selection.
Individual vendors respond with "Innovator Briefs," describing their proposed solution.
Providers review these submissions to determine a shortlist of vendors, inviting them to pitch and discuss their solutions.
Design and prototyping
Provider and vendor(s) conduct user interviews and site observations to gain a deeper understanding of, and empathy for whom they are designing.
Provider and vendor(s) collaborate on a solution, and produce a prototype. This phase is iterative and can have many design cycles.
Based on the learnings from previous iterations, the provider and vendor team scopes a minimal viable product to evaluate outcomes and a viable business model for procuring the solution. The team uses the results to make a final decision whether to move forward.
Procurement
If their decision is favourable, the provider has the option of procuring the new solution.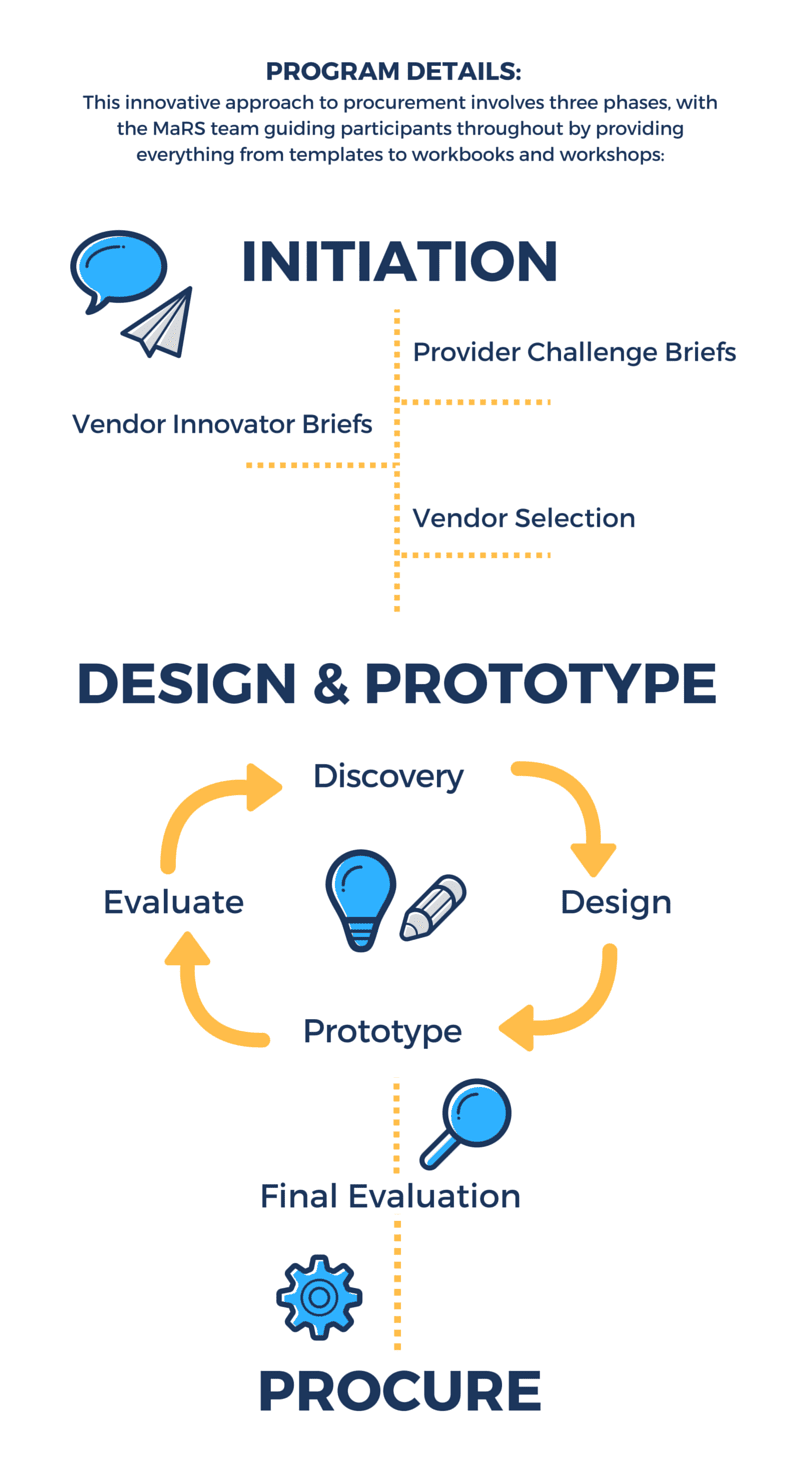 Eligible projects
Are innovative and offer a clear approach to designing a solution to a provider's pressing problem
Can be rapidly designed, prototyped and tested in context of intended use (e.g., clinical, back-office)at minimal cost
Solution will cost less than $100k to procure
Co-Design principles
Participants should be willing to follow the co-design principles of
participation: co-design is a collaborative process in which as many stakeholders as possible have input
development: co-design evolves as a process, maturing and adapting as it takes place
co-ownership and power: co-design involves a transformation of ordinary power relations between stakeholders and aims to generate collective ownership
outcomes and intent: co-design has a practical focus, notwithstanding that unplanned processes and transformations are likely to occur as collateral effects of the process
Resources
These resources provide guidance on how procurement by co-design works and how to complete a challenge brief.
Cohort 2 Launch Day Materials
Submitting a Challenge – For Providers
Responding to a Challenge – For Vendors
Applying for a Co-Design Grant – For Provider-Vendor Teams