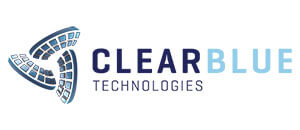 CEO: Miriam Tuerk
Sector: Cleantech
Sub-sector: Energy IT and Smart Grid
Year founded: 2011
Website: www.clearbluetechnologies.com
Clear Blue Technologies develops hardware and software that combine the power of clean energy with the proven advantages of communications and cloud technology to deliver high-performance off-grid power. The company's Smart Off-Grid Hybrid Controller harvests energy from solar panels and a wind turbine to power off-grid applications including streetlights, security solutions and mobile signage. The system is designed to easily integrate into a variety of products to deliver highly reliable off-grid systems. The company's Illumience Cloud Control software provides real-time monitoring and control of the off-grid system through mobile platforms, delivering unmatched reliability and performance, and reducing maintenance time and costs.
Read more