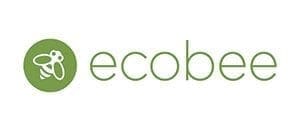 CEO: Stuart Lombard
Sector: Cleantech
Sub-sector: Energy IT and Smart Grid
Year founded: 2007
Website: www.ecobee.com
Headquartered in Toronto, ecobee Inc., introduced the world's first Wi-Fi connected smart thermostat in 2009. The company's award-winning thermostats have enabled hundreds of thousands of consumers to control their home comfort anytime and from anywhere, using their smartphone, tablet or computer.
In 2014, ecobee reinvented the smart thermostat market again by introducing the ecobee3 smarter Wi-Fi thermostat with remote sensors. The ecobee3 resolves a fundamental design flaw that has persisted since thermostats were invented—ordinary thermostats only read temperature in one location, often the hallway. Designed for homes with more than one room, the ecobee3 introduces the ability to wirelessly measure temperature and occupancy in multiple rooms and automatically adjusts the temperature based on the readings in those rooms to keep you comfortable. If your schedule changes and you leave your home, the sensors will recognize this and prevent your heating and cooling systems from running unnecessarily when your home is empty. ecobee3 has been recognized by media with numerous Editor's Choice awards and by consumers with the highest consumer ratings online at Apple, Best Buy, Home Depot and Amazon.
Read more